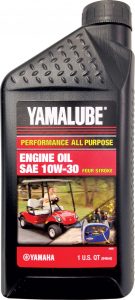 Yamalube is formulated to enhance the performance of your Yamaha and offer exceptional protection against wear and tear. Yamalube is developed by Yamaha and is extensively tested in both laboratory and real world conditions. When you choose Yamalube, you can be confident that you have one of the best performing oils available for your Yamaha.
Yamalube SAE 10W-30 Engine Oil is a specialy formulated mineral base oil and additive system for the rigors of a constant load and frequent start-ups as found with the normal operation of a Yamaha Generator.
Ready to find out more?
Look for a dealer near you!