Limited Time Offer!
Bonus $150 VISA gift card when you buy an EF2400iS 2.4 kVA generator between 1st February to 18th April 2019.
The Perfect Portable Generators for Camping
When you're out camping, you would still want to enjoy a nice hot cup of coffee in the morning, and a nice cold beer in the evening. Having access to power can make your outdoor adventures even more enjoyable. Yamaha range of camping generators are the lightest and quietest available, so they are perfect for using outdoors when you still want to soak up the serenity. With Yamaha's Noise Block technology, the generators run silently while maintaining quality performance. You and everyone around you would not be bothered by loud noises produced by most generators.
The EF1000iS, EF2000iS and the EF2000iSC are some the most popular leading models of portable generators. They are the lightest and quietest models in their classes, and the excellent fuel efficiency ensures that you are not caught out with a dry generator in the middle of the night. Suitable for camping sites, campervans and caravans. They comfortably power camp fridges, lights and sensitive electronics such as laptops, mobile phones and other gadgets.
Their portable and compact size ensure that they don't take too much precious space in your vehicle, leaving more room for other essentials such as food and clothing.
The EF2400iS & EF2800i are also great alternatives if you want that extra power for multi-purpose use such as blackout situations.
Our Range of Generators for the Campsite
Note: Images are for display purposes only. Product may differ from images displayed. Model No: EF2000iS The 2 kVA EF2000iS Inverter Generator: powerful, portable and super sleek with lots of great features. This overall best seller is great for recreational activities such as camping, fishing and boating.  It's also a great companion for the camper-trailer.…
Features To Look For In A Camping Generator
Portability
When you go on a camping trip, you would want to bring equipment that are portable and easy to use. You wouldn't want to transport heavy equipment that are difficult to move and store. Our camping generators provide high power output in a small footprint, leaving you more space to pack your food, tent, bedding, fishing gear and other things that matter.
Clean Power
Most campers (except the really hardcore ones) rely on electronic gadgets during trips. This could include communication and navigation equipment, lighting, cooking and entertainment devices. Some even need to use laptops for work and research. Yamaha's inverter generators produce pure sine wave power which provides stable frequency and voltage to ensure your devices and sensitive electronics are sufficiently protected. With less than 2.5% Distortion Ratio, they are suitable to use with products with built-in computer functions and microcomputer controlled equipment such as power tools and projectors. The generators also feature an Electronic Circuit Breaker which will cut off current when the output voltage is more than the designated maximum output capacity. This protects both the generator and your connected equipment from damage.
Quiet Operation
When you're out in nature, you want to listen to birds chirping, stream running or trees rustling... not the rumble of a generator! Yamaha's Nose Block technology ensures that the generator is super quiet, silently working on petrol power while providing its maximum rated output.
Fuel Efficient
You do not want to carry too many jerry cans on your trip, but you also need sufficient amount of fuel to power your necessities. That is why Yamaha's range of generators offer superior fuel efficiency, which also serve to prolong the engine life and extend the running time between refuelling. This is achieved through Smart Throttle, where the generator automatically adjusts the engine speed based on the current load. Yamaha's camping generator range come in several fuel tank capacities fit for almost any type of outing.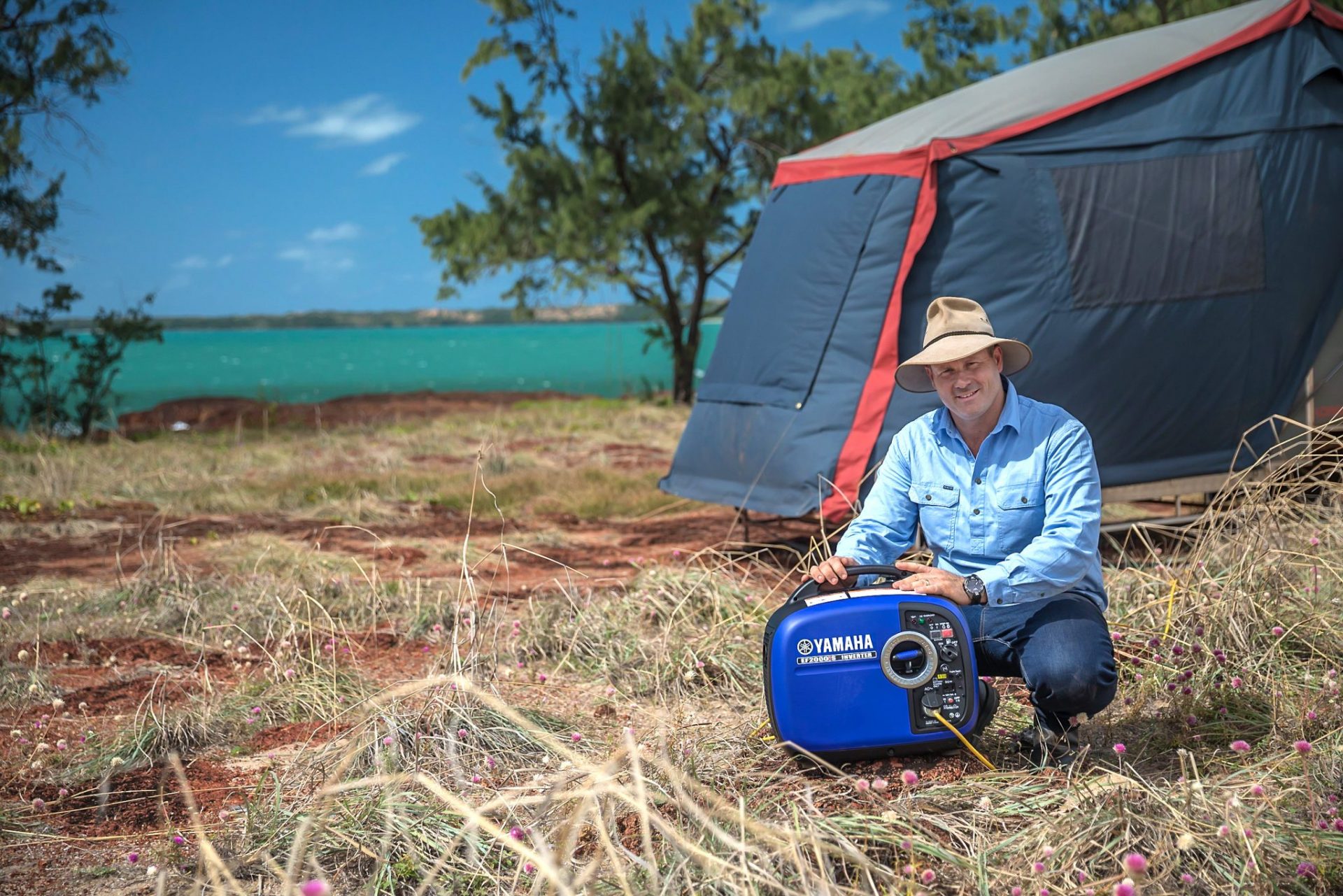 Ready to find out more?
Look for a dealer near you!