Buyer's guide to portable inverter generators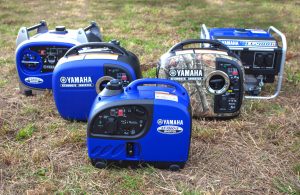 A portable generator is a great piece of equipment to add to your adventure gear, but with many options on the market how do you choose one that suits you? This helpful guide from Yamaha will give you the info you need to get it right.
Buying a generator is much easier when you follow these steps:

Why Yamaha is so popular
By following the above guide you will find a generator that's right for you. At Yamaha we make the finest portable inverters available and the widest range. Our generators are the lightest, quietest, longest running in its class and come with the most standard features. On top of all that, we offer a leading four year warranty. So if you choose Yamaha you know you're getting the best, that is what makes them so popular with enthusiasts all over the world.
Watch Pat from Pat Callinan's 4x4 Adventures talk about how to choose the right portable inverter Yamaha generator for your needs.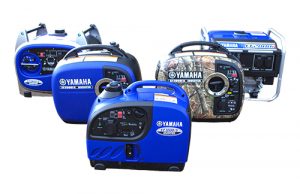 Inverter generator – these generate the cleanest power possible, called pure sine wave power. They are suitable for powering any equipment, including sensitive electronics. They are also lighter, quieter and more efficient than conventional generators. Portable generator – consumers usually think of a portable generator as something one or two people can carry easily, but generator manufacturers…
Step 1: Decide which appliances you want to power at the same time Step 2: Determine the maximum total load for these appliances, including start up requirement. This is usually given in watts and can be found on the data plate or in the manual for the appliance. Starting power is higher than running power for appliances…
Even after working out the size of generator you require there are a lot of options to choose from, but they will not all be the same! Below are some features to look out for. Weight: The lighter the better, and there can be significant differences between brands. Noise: A noisy generator is not popular on a…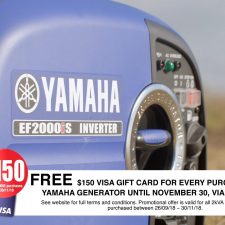 Have you seen Yamaha's national TV ad for the $150 Visa gift card campaign? Check out the video below. Full details of this campaign are available in our offer page. View Offer Page
Read More

→