Generators Perfect for Industrial Use
Whether you're a handyman needing to work power tools or a mobile coffee vendor making aromatic lattes with your coffee machine; Yamaha provides you with the flexibility to use your unit from the job site to home and on the road.
Accessories such as wheel kits and remote start kits are also available to make your job easy.
Our Range of Products for Industrial & Trade Use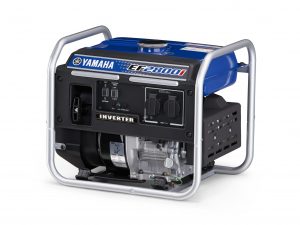 The lightest and quietest generator in its class, the EF2800i is able to power anything from power tools to sophisticated electronics including laptops, tablets and computers.
Ready to find out more?
Look for a dealer near you!
Inverter generators may be suitable for powering sensitive electronic equipment or applications such as:
- Laptops & computers
- Plasma TVs
- Air conditioners
- Market stalls
- Coffee machines in coffee vans
- Inflatable outdoor cinema screens
Conventional generators may be suitable for powering tools or applications such as:
- Power tools
- Building sites or trade sites
- Emergency home or small office backup