Your privacy on the Internet is of the utmost importance to us.
At www.generatorsyamaha.com.au, we want to make your online experience satisfying and safe.
Because we gather certain types of information about our users, we feel you should fully understand our policy and the terms and conditions surrounding the capture and use of that information. This privacy statement discloses what information we gather and how we use it.
Generatorsyamaha.com.au gathers information that users provide through optional, voluntary submissions. These are voluntary submissions to receive our electronic newsletters and from participation in polls and surveys. Under no circumstances does generatorsyamaha.com.au divulge any information about an individual user to a third party.
generatorsyamaha.com.au gathers user information in the following processes:
1. Surveys
generatorsyamaha.com.au may occasionally conduct user surveys to better target our content to our audience. We never share any of this information about specific individuals with any third party.
2. Usage Tracking
generatorsyamaha.com.au tracks user traffic patterns throughout all of our sites. However, we do not correlate this information with data about individual users. generatorsyamaha.com.au does break down overall usage statistics according to a user's domain name, browser type, and MIME type by reading this information from the browser string (information contained in every user's browser).
generatorsyamaha.com.au sometimes tracks and catalogues the search terms that users enter in our Search function, but this tracking is never associated with individual users. We use tracking information to determine user preferences based on traffic to those areas. We do not track what individual users read, but rather how well each page performs overall. This helps us continue to build a better service for you.
3. Cookies
We may place a text file called a 'cookie' in the browser files of your computer. The cookie itself does not contain Personal Information although it will enable us to relate your use of this site to information that you have specifically and knowingly provided. But the only personal information a cookie can contain is information you supply yourself. A cookie can't read data off your hard disk or read cookie files created by other sites. generatorsyamaha.com.au uses cookies to track user traffic patterns (as described above). You can refuse cookies by turning them off in your browser. If you've set your browser to warn you before accepting cookies, you will receive the warning message with each cookie. You do not need to have cookies turned on to use this site. However, you do need cookies to participate actively in message boards, forums, polling and surveys.
Security
generatorsyamaha.com.au operates secure data networks protected by industry standard firewall and password protection systems. Our security and privacy policies are periodically reviewed and enhanced as necessary and only authorised individuals have access to the information provided by our customers.
Your Consent
By using this site, you consent to the collection and use of this information by generatorsyamaha.com.au. If we decide to change our privacy policy, we will post those changes on this page so that you are always aware of what information we collect, how we use it, and under what circumstances we disclose it.
External Sites
generatorsyamaha.com.au may contain links to other sites on the Internet that are owned and operated by third party vendors and other third parties. You acknowledge that the company is not responsible for the availability of, or the content located on or through, these External Sites. Please contact the site administrator or Webmaster for those External Sites if you have any concerns regarding such links or the content located on such External Sites.
Disclaimer
Disclaimer for generatoryamaha.com.au
All the information on this website – generatoryamaha.com.au – is published in good faith and for general information purposes only. We do not make any warranties about the completeness, reliability, and accuracy of this information. Any action you take upon the information you find on this website is strictly at your own risk. We will not be liable for any losses and/or damages in connection with the use of our website.
From our website, you can visit other websites by following hyperlinks to such external sites. While we strive to provide only quality links to useful and ethical websites, we have no control over the content and nature of these sites. The inclusion of any links does not necessarily imply a recommendation or endorse the views expressed within them. Site owners and content may change without notice and may occur before we have the opportunity to remove a link that may have gone 'bad.'
Please be also aware that when you leave our website, other sites may have different privacy policies and terms that are beyond our control. Please be sure to check the Privacy Policies of these sites as well as their "Terms of Service" before engaging in any business or uploading any information.
Consent
By using our website, you hereby consent to our disclaimer and agree to its terms.
Updates
Should we update, amend, or make any changes to this document, those changes will be prominently posted here.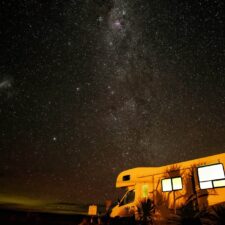 When you're camped out in the midst of summer, the temperature inside your caravan can get pretty high. Your caravan will act like an oven, and on really hot days turning on the fan will only result in hot air being blown. While air conditioners used to be impractical for mobile homes due to their…
Read More

→