Even after working out the size of generator you require there are a lot of options to choose from, but they will not all be the same! Below are some features to look out for.
Weight: The lighter the better, and there can be significant differences between brands.
Noise: A noisy generator is not popular on a campsite! Most generator noise levels are measure in decibels at 7 metres from the unit (dBA @7m). As a point of reference 60 dBA is about the level of an average conversation. When comparing noise levels it is important to remember the decibel scale is logarithmic, not linear. This means 70dBA is actually twice as loud as 60dBA. Every 10dBA increase is twice as loud.
Smart throttle: An automatic throttle adjusts engine revs to match the load. This helps to reduce noise and fuel consumption.
Run time: Better quality units offer longer running times, reducing the frequency of refuelling.
Fuel petcock: This allows you to shut off fuel and run the carburettor dry. You will be able to avoid stale fuel gumming up the carburettor and prevent smells leaking during storage and transport.
Warranty: You will be able to ensure maximum life time for your portable inverter with a quality warranty. Look for brands that are easily contacted and will stand by their products. The longest warranty available on the market is currently four years.
Service and parts: Accessing spare parts and servicing is important for the longevity of your unit, so a brand with a good service network will ensure years of enjoyment.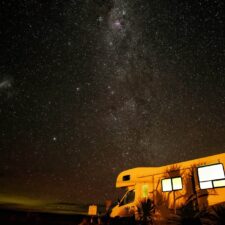 When you're camped out in the midst of summer, the temperature inside your caravan can get pretty high. Your caravan will act like an oven, and on really hot days turning on the fan will only result in hot air being blown. While air conditioners used to be impractical for mobile homes due to their…
Read More

→